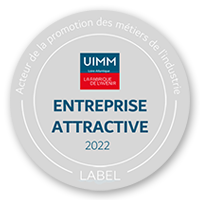 A corporate culture

Joining a dynamic SME in Nantes

You want to get involved in an SME based around Nantes (44 ), in a dynamic company on a human scale?

You find yourself in our values:
Trust
Agile expertise
Collaboration
Don't wait any longer and join our teams!
Collaboration
Being in solidarity with a project, an idea, an improvement, having fun "hands on" to appropriate the topics. There are, on a daily basis, heaps of operational subjects which almost always require solidarity of body and generosity of heart.
Confidence
Confidence in his collaborator, his client, his subcontractor and his team. Trust is built over time and burns as quickly as a match. It is a precious value that we all work on every day.
Agile expertise
Since the time that we exist and that we always seek to develop our strategic areas of activity, we all practice agile expertise on a daily basis. It is our talent to keep.
Finally, trust in the ultimate infinitely recyclable material, mastered by experts concerned about our environment and our health, that is to say US!